Scouting & Cubbing
SCOUTING
Group Scout Leader:  Mr. Thilak Jayasiri – GSL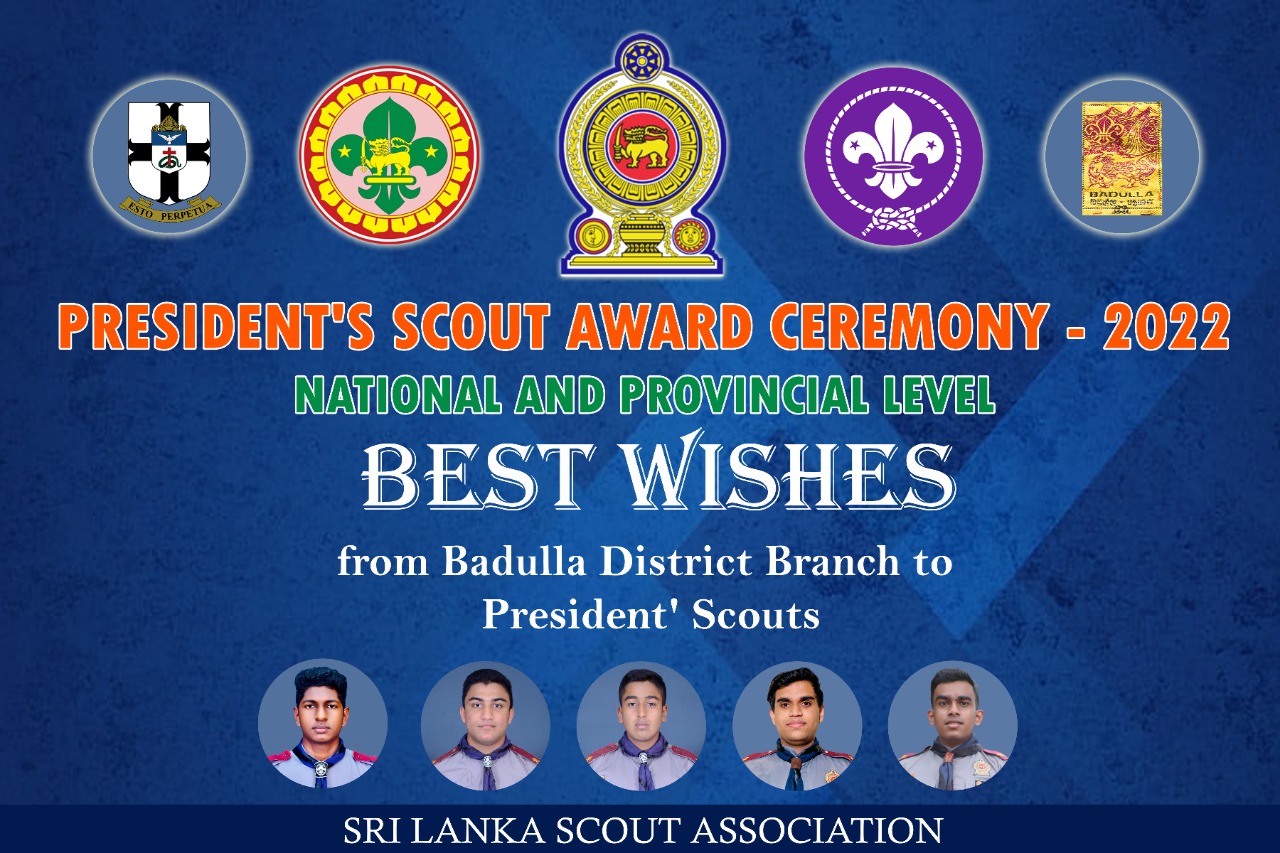 The scouts from S. Thomas' College, Bandarawela has been one of the very few troops in the entire island to succeed in producing President's Scouts award winners annually.  The following scouts were appointed President Scouts on February 23, 2022:
R M K T Wimalachandra
A Dilukshan
G N D Fernando
K M S C Jayasanke
D M P M Dissanayake

---
A three day scout camp with the participation of 350 scouts and girl guides was held at the College premises to mark the 50th anniversary of the College Scout Troop with many activities.

The Chief Commissioner of scouts in Sri Lanka Engineer Meril Gunatilake graced the occasion as the Chief Guest for the opening ceremony while Mr. Dhanapala Thanthirige the District Secretary was the Chief Guest for the closing ceremony.

On the 13th of March 2019, a get together for the Cub Scouts as well as a badge awarding ceremony were held and around 40 new scouts joined the scout troop.

The following four scouts of the college were awarded the President Scout badge:
Chamod Sampath Jayasanke
Navodya Dineth Fernando
Dilukshan Amirthanayagam
R.D.M.K.T. Wimalachandra
CUBBING
Teacher-in-charge: Mrs. Harshini Mahakumarage, Mrs. Sumi Gnananesan & Miss. Neesha Bandara
As at present, there are around 40 students who actively take part in cubbing which is conducted on Wednesdays after school. The young cubs are introduced to songs, games and other activities related to cubbing. During the enrollment of 29 Cubs, 02 Gold Stars, 15 Silver Stars and 02 Bronze Stars were awarded.

A Scout camp was held at our College on the 2nd of February to which Janananda Vidyalaya and Al-Barakha International School took part. The 12th National Cabboree was held at Veyangoda during the month of April. A job week was held during the third term to which the cubs actively took part.

Apart from this, Mrs. Sumitha Gnananesan and Mrs. Neesha Bandara completed their Phase II training in March.


SINGITHI CUBBING MOVEMENT
Teachers-in-charge: Mrs. Ishanka Gunathilake and Mrs. S.J.M. Rukshila

The 'Singithi' Cubbing Movement was initiated with the aim of promoting the cubbing and scouting movement among the students at an early age. Apart from this, the young cubs also learn to value nature, friendship and overcoming challenges through activities. As at present, there are around 50 students from Grades 1 and 2 who actively take part in this programme which is held every Wednesday from 12.15 pm to 1.15 pm

During the year in review, 56 students were enrolled and received badges. The 'Singithi' cubs also took part in an environmental awareness programme during the third term.